Overview of Museum
The museum comprises ten zones, labeled A to J. The themes of each zone are as follows.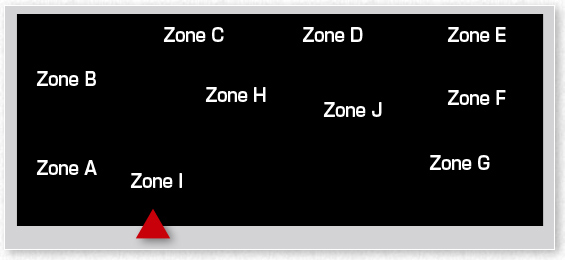 Zone A
:
Impossible motion, impossible solids (Sugihara)
Zone B
:
Floating visual illusions (Arai and Arai), visual cryptography (Yamaguchi)
Zone C
:
Hybrid images (Yamaguchi)
Zone D
:
Visually illusory opposite color tops (Fukuda and Ueda), homeostasis in eye color (Kitaoka)
Zone E
:
Library and study corner, system for creating Escher-style tiling patterns (Sugihara)
Zone F
:
Fractal spiral illusions, letter row tilt illusions (Arai and Arai)
Zone G
:
Support system for creating applied illusion web content (Miyashita),
3D CG expression of impossible solids (Miyashita and Shinohara)
Zone H
:
Experimental device for measuring vertical inclined illusions (Tomoeda)
Zone I
:
Illusory art and floor tiles (Kitaoka)
Zone J
:
Illusory art tapestries (Kitaoka)
For highlights of the museum and information on the exhibits, visit this page.